Our greatest opportunity to influence the world in a sustainable direction lies in what we do best – business law. Achieving change demands that we lead by example and accept social responsibility for that which we are capable of influencing. Mannheimer Swartling has worked with sustainability issues for many years within a framework of three pillars: sustainability in our legal advice, internally within the firm, and in society.
Our legal services are the core of the firm's business. We have specialist groups with focused expertise in sustainability – but sustainability-related challenges arise throughout all our practice groups and areas of law. It is crucial that our legal advice continues to drive the development towards a more sustainable business sector – both for the stakeholders of today as well as those of future generations.
Our internal sustainability work focuses on issues that are central to both the firm and the wider legal profession, such as skills and development, health and wellbeing, diversity and inclusion, climate and the environment, and ethics and compliance.
In society, we support selected organisations and activities on a pro bono advisory basis and we participate in various community initiatives to strengthen the wider contribution to a more sustainable society.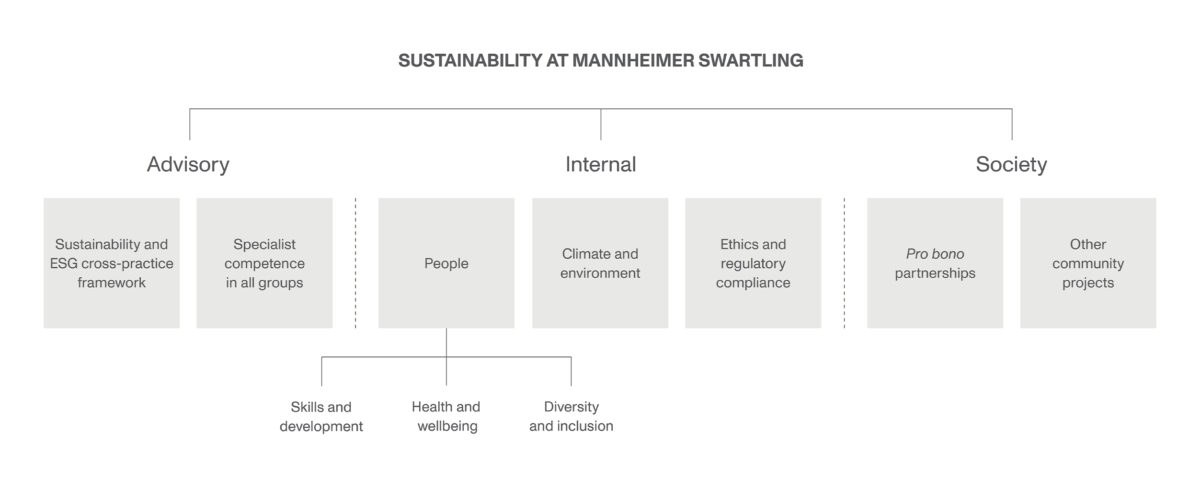 Sustainable by design
Our Sustainable by design concept aims to embed the horizontal integration of the firm's sustainability values and objectives into our daily operations. We currently focus the concept on our core business – from the arrival of a matter from a client, to the advice provided and the lessons and experiences that we bring to each new matter. By mapping the course of a matter, the common elements and the outcomes, we gain a clearer picture of the relationship between cause and effect in our sustainability work and in the firm's overall business strategy.
Sustainability from the start concerns which matters and questions we choose to work on. This relates partly to compliance, but also firm strategy, regulations and business ethics.
Sustainability in advice signifies the deep knowledge of sustainability-linked law and context across all of our practice and industry groups.
Sustainability in people fosters a long-term sustainable working environment with a focus on health and wellbeing, diversity and inclusion, the staffing of matters and the promotion of individual development.
Sustainability in delivery relates to the methods we use when providing services to our clients and actively seeking to reduce any negative impacts on people and the planet along the way – from travel choices to the selection of sub-suppliers for services and goods.
Sustainability in the cycle represents the continuous improvement loop – our reflections, what we have learnt, and what we can do further to develop a sustainable business.